Share Short Life Unblocked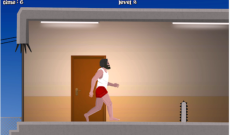 Short Life Unblocked
Short Life Unblocked is a physics-based, ragdoll-style game that is similar in gameplay to the popular game "Happy Wheels." In "Short Life," your objective is to control a character and guide them through a series of dangerous levels, filled with traps and obstacles, to reach the finish line safely. The game is known for its challenging and often humorous
GAME INFO
Categories & Tags:
Short Life Unblocked is a physics-based, ragdoll-style game that is similar in gameplay to the popular game "Happy Wheels." In "Short Life," your objective is to control a character and guide them through a series of dangerous levels, filled with traps and obstacles, to reach the finish line safely. The game is known for its challenging and often humorous gameplay.
Instructions
Here's a basic guide on how to play Short Life Unblocked and its controls:
Controls:
Use the arrow keys (or WASD keys) to move your character.
The up arrow key (or W key) is used to jump.
The down arrow key (or S key) is used to crouch or crawl.
Spacebar is used for performing actions like grabbing onto objects, switches, or ropes.
The R key is for restarting the level if your character meets an unfortunate end.
Gameplay:
Your character is a ragdoll, and you must navigate them through each level while avoiding deadly traps and obstacles.
Obstacles can include things like spikes, crushers, mines, cannons, and more, which can lead to your character's demise in various amusing ways.
You'll need to time your movements carefully, jump over hazards, crouch to avoid low obstacles, and use your character's abilities to bypass each level's challenges.
The ultimate goal is to safely reach the finish line at the end of each level.
Short Life Unblocked is known for its fast-paced, trial-and-error gameplay, and it's all about figuring out the best way to navigate the hazards to progress through the game. Be prepared for plenty of comical and unexpected deaths along the way as you attempt to guide your character to victory.