Share Indian Tractor Farm Simulator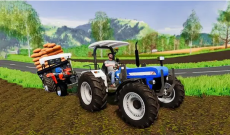 Indian Tractor Farm Simulator
Indian Tractor Farm Simulator is a farming simulation game that allows players to experience the life of a modern farmer in a detailed and expansive open world. In the game, you can engage in various agricultural activities and tasks, manage livestock, harvest crops, and participate in forestry activities. Your ultimate goal is to expand your farm by selling your products in a dynamic
GAME INFO
Categories & Tags:
Indian Tractor Farm Simulator is a farming simulation game that allows players to experience the life of a modern farmer in a detailed and expansive open world. In the game, you can engage in various agricultural activities and tasks, manage livestock, harvest crops, and participate in forestry activities. Your ultimate goal is to expand your farm by selling your products in a dynamic market.
Instructions
Here's an overview of the game and its potential controls and gameplay:
Gameplay Overview:
Farming Simulation: Indian Tractor Farm Simulator provides a realistic farming experience, allowing you to engage in various agricultural activities commonly associated with farming, such as plowing, sowing, watering, and harvesting different types of crops.

Livestock Management: In addition to crop farming, the game lets you take care of livestock, including cows, sheep, and pigs. This means feeding, breeding, and maintaining the well-being of your animals.

Forestry Activities: You can participate in forestry tasks, such as cutting down trees, processing wood, and selling timber products. These activities contribute to the overall economy of your farm.

Marketplace: To expand your farm and purchase new equipment, you need to sell your farm products on a dynamic market. Prices may fluctuate based on supply and demand, making market strategy an essential aspect of the game.

Open World: The game is set in a large, open-world environment, allowing you to explore and engage in various farming tasks in different locations.
Controls Guide:
The specific controls for Indian Tractor Farm Simulator can vary depending on the platform you are playing on (e.g., mobile, PC, or gaming console). Common control mechanisms for this type of game often include:
Movement Controls: Use the directional keys or on-screen virtual joystick to move your character or vehicle around the game world.

Action Buttons: Interact with objects, vehicles, and animals using action buttons, such as planting, harvesting, feeding, and driving.

Camera Controls: Adjust the in-game camera to change your perspective and view different parts of the farm.

Inventory Management: Access and manage your inventory, equipment, and farm resources through inventory screens or menus.

Marketplace Interface: Use an in-game marketplace interface to sell your farm products and purchase items or upgrades.

Vehicle Controls: When operating tractors and other farm vehicles, you may have access to a dashboard with vehicle-specific controls for steering, accelerating, and braking.
How to Play:
To play Indian Tractor Farm Simulator effectively, you'll need to:
Start with basic farming tasks, like planting and harvesting crops.
Manage your livestock and ensure their well-being.
Participate in forestry activities to diversify your income.
Pay attention to market trends and sell your products strategically.
Invest your earnings in expanding your farm, upgrading equipment, and unlocking new features.
The game encourages you to explore the open world, complete various missions, and gradually transform your small farm into a prosperous agricultural enterprise. Enjoy the immersive farming experience and the satisfaction of growing your virtual farm.