Share City Construction Games 3D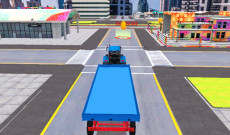 City Construction Games 3D
City Construction Games 3D is a captivating simulation game that lets you unleash your inner builder and transform a bustling metropolis into a masterpiece of urban design. With a diverse range of construction vehicles at your disposal, you'll embark on a journey of development, navigating the intricacies of city planning and transforming barren landscapes into thriving urban
GAME INFO
Categories & Tags:
City Construction Games 3D is a captivating simulation game that lets you unleash your inner builder and transform a bustling metropolis into a masterpiece of urban design. With a diverse range of construction vehicles at your disposal, you'll embark on a journey of development, navigating the intricacies of city planning and transforming barren landscapes into thriving urban hubs.
Instructions
Here's a general guide on how such games typically work:
Controls:
Vehicle Controls:

Use on-screen controls, such as buttons or sliders, to operate construction vehicles like snow excavators, dumper trucks, and snow coaches.
Control the movement, steering, and speed of the vehicles.

Camera Controls:

Adjust the camera angles to get different views of the construction site. This is often crucial for precision and navigation.

Action Controls:

Perform specific actions like loading materials onto a truck or using construction equipment. These actions are typically triggered by tapping or interacting with on-screen elements.
How to Play:
Snow Removal:

In one mode, you'll drive a snow excavator to remove snow. Use the vehicle's capabilities to clear pathways or designated areas.

House Building:

In another mode, participate in building a house from the design stage. This could involve various construction activities, such as laying foundations, erecting walls, and placing roofs.

Excavator Simulator:

Use a dumper truck with a snow coach in the Excavator Simulator mode.
Load materials from markets onto the truck using the excavator.
Deliver materials to construction sites for building construction.

Task Completion:

Fulfill tasks and objectives related to snow removal, material transportation, and construction activities.

City Building:

Contribute to the development of a city by engaging in construction projects. This may involve multiple tasks and missions to enhance the cityscape.

Multi-Mode Gameplay:

Engage in various modes, each presenting different challenges and construction scenarios.

Construction Challenges:

Encounter challenges specific to construction, such as managing resources efficiently, meeting deadlines, and maintaining construction quality.

Progression:

Advance through levels or missions, unlocking new construction vehicles, tools, and areas of the city.

Realistic Simulation:

Experience a realistic simulation with attention to detail in construction machinery, physics, and construction processes.
Remember, the information provided here is based on general trends in construction simulation games, and the actual mechanics of "City Construction Games 3D" may vary. If it's a real game, refer to the in-game tutorial or instructions for accurate and detailed information about controls and gameplay. Additionally, check for updates or guides within gaming communities for tips on successfully completing construction tasks in the game.