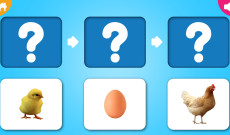 Animal Life Cycle
Animal Life Cycle is an educational simulation game that introduces young learners to the fascinating world of animal life cycles. Through engaging gameplay, interactive elements, and vibrant visuals, Animal Life Cycle helps children understand the different stages of development that animals undergo, from birth to
GAME INFO
Categories & Tags:
Animal Life Cycle is an educational simulation game that introduces young learners to the fascinating world of animal life cycles. Through engaging gameplay, interactive elements, and vibrant visuals, Animal Life Cycle helps children understand the different stages of development that animals undergo, from birth to adulthood.
Instructions
Controls Guide:
Mouse: Use the mouse to navigate through the game's menus, select animals, and interact with objects.
On-screen buttons: Use the on-screen buttons to control the environment, trigger animations, and complete tasks.
Drag and drop: Drag and drop objects to their corresponding locations, such as placing food for animals or matching life cycle stages.
How to Play:
Select the animal you want to learn about, such as a butterfly, frog, or turtle.
Observe the animal's life cycle unfold in a series of interactive stages.
Drag and drop food to feed the animal at different stages of its life.
Match life cycle stages to their corresponding descriptions or images to reinforce understanding.
Complete tasks and challenges to earn rewards and unlock new levels.
Enjoy the colorful graphics, engaging animations, and informative narration that make learning fun and interactive.
Tips:
Read the descriptions and observe the animations carefully to understand the key characteristics of each life cycle stage.
Pay attention to the animal's appearance and behavior as it grows and changes throughout its life cycle.
Use the drag-and-drop feature to interact with the environment and complete tasks effectively.
Ask questions and seek help from parents or teachers if you encounter any difficulties.
Embrace the joy of learning and explore the life cycles of different animals to expand your knowledge.
Experience the Wonders of Animal Life Cycles:
Animal Life Cycle provides an engaging and interactive platform for children to explore the fascinating world of animal life cycles. Through immersive gameplay, captivating visuals, and informative narration, the game fosters a love for learning and encourages curiosity about the natural world.
Become a Young Animal Life Cycle Expert:
Animal Life Cycle offers a rewarding experience for young learners to become experts in animal life cycles. As they progress through the game, children will gain a comprehensive understanding of the different stages of development that animals undergo, from birth to adulthood. The game's interactive elements and engaging tasks help solidify knowledge and make learning fun and memorable.