Share Advance Car Parking Simulation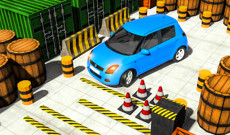 Advance Car Parking Simulation
Advance Car Parking Simulation is an immersive and realistic car parking simulation game that puts your driving skills to the test. With its challenging parking scenarios, realistic car physics, and stunning graphics, Advance Car Parking Simulation is the perfect game for anyone who loves a good parking
GAME INFO
Categories & Tags:
Advance Car Parking Simulation is an immersive and realistic car parking simulation game that puts your driving skills to the test. With its challenging parking scenarios, realistic car physics, and stunning graphics, Advance Car Parking Simulation is the perfect game for anyone who loves a good parking challenge.
Instructions
Here's a general guide on how parking simulation games typically work:
Controls:
Steering: Use your device's tilt or on-screen steering wheel to control the direction of your car.
Acceleration/Braking: Tap or use on-screen pedals to control the speed of your car.
Gear Shift: Some parking simulation games may include a manual transmission, allowing you to shift gears manually.
Camera Views: Switch between different camera views, such as top-down, rearview, or first-person perspectives, to get a better view of your car and surroundings.
How to Play:
Car Parking Challenges:

Navigate through various parking challenges, such as tight spaces, obstacles, and puzzles.
The goal is to park your car in designated parking spots within a specified time or without hitting obstacles.

Master Car Driving Skills:

Improve your car driving skills by learning to handle different types of vehicles in various parking scenarios.
Practice precise steering, acceleration, and braking to navigate through challenging parking situations.

Realistic Feedback:

Experience realistic car driving feedback to enhance the simulation aspect of the game.
The game may provide feedback on steering sensitivity, acceleration, and braking dynamics.

Learn Parking Techniques:

The game may offer tips and techniques for efficient and precise parking.
Master parallel parking, perpendicular parking, and other advanced parking maneuvers.

Progression:

Advance through different levels or stages, each presenting more challenging parking scenarios.
Earn points or rewards for successful parking and unlock new levels or vehicles.

Obstacle Courses:

Some parking simulation games feature obstacle courses that test your ability to navigate through complex environments.

Puzzle Elements:

Solve parking puzzles that require strategic thinking to figure out the best way to park your car.

Driving Simulator Experience:

Immerse yourself in a realistic driving simulator environment that mimics real-world physics and challenges.
If "Advance Car Parking Simulation" is a real game, you should refer to the in-game tutorial or instructions for more accurate and detailed information about controls and gameplay. Additionally, check for updates or guides within gaming communities for tips on mastering the game.