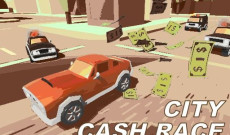 City Cash Race
City Cash Race is an adrenaline-pumping arcade-style racing game that puts you in the driver's seat of a high-speed chase through bustling city streets. With its fast-paced gameplay, intuitive controls, and addictive challenges, City Cash Race will keep you on the edge of your seat as you strive to become the undisputed king of the city's cash-grabbing
GAME INFO
Categories & Tags:
City Cash Race is an adrenaline-pumping arcade-style racing game that puts you in the driver's seat of a high-speed chase through bustling city streets. With its fast-paced gameplay, intuitive controls, and addictive challenges, City Cash Race will keep you on the edge of your seat as you strive to become the undisputed king of the city's cash-grabbing frenzy.
Instructions
Controls Guide:
On-screen buttons:

Use the on-screen buttons to steer your car left or right.
Tilt controls:

Tilt your device to steer your car with precision.
Virtual steering wheel:

Use the virtual steering wheel to immerse yourself in the realism of driving.
Pedals:

Accelerate and brake your car using the virtual pedals.
Cash button:

Collect cash bundles by pressing the cash button.
How to Play:
Select your preferred car and start the race.
Navigate through the city streets, collecting cash bundles to increase your score.
Evade police cars that are in hot pursuit.
Upgrade your car's speed, handling, and cash collection capacity using the earned cash.
Reach the finish line to complete the level and unlock new ones.
Tips:
Plan your route carefully to maximize cash collection and avoid police encounters.
Time your turns precisely to maintain speed and avoid collisions.
Use power-ups strategically to gain an advantage and outmaneuver the police.
Upgrade your car's performance to gain a competitive edge.
Practice makes perfect! Keep playing to improve your skills and become the ultimate City Cash King!
Embrace the Thrill of the Chase:
City Cash Race delivers an exhilarating blend of speed, precision, and strategic thinking. As you navigate through the intricate city streets, you'll face the constant challenge of escaping the relentless pursuit of the police. The game's intuitive controls and responsive gameplay make it easy to pick up and play, but mastering its intricacies will require dedication and skill.
Become the City Cash King:
With its addictive gameplay and endless pursuit of wealth, City Cash Race will keep you coming back for more. Strive to collect as much cash as possible, upgrade your car to its full potential, and conquer every level to become the undisputed king of the city's cash-grabbing frenzy.
So what are you waiting for? Download City Cash Race today and embark on a thrilling journey of high-speed chases, cash-grabbing maneuvers, and ultimate urban domination!